Message Testimonials
Thank you our patients reviews about CM Dental clinic, Chiang mai thailand.
I took advantage of my stay in Thailand to start dental clinic. I found a dental clinic at Chiang Mai "CM Dental Clinic" with Doctor Laddawan.
In two weeks time I had the equivalent of a year of treatment in France.
I'm completely satisfied with the care, Doctor Laddawan did me with a very great job.
I repeat two weeks time with a great professionalism and seriousness.
"CM Dental Clinic" is a good address and I advice this clinic.
Cyrill Templier – France
Dec 1, 2019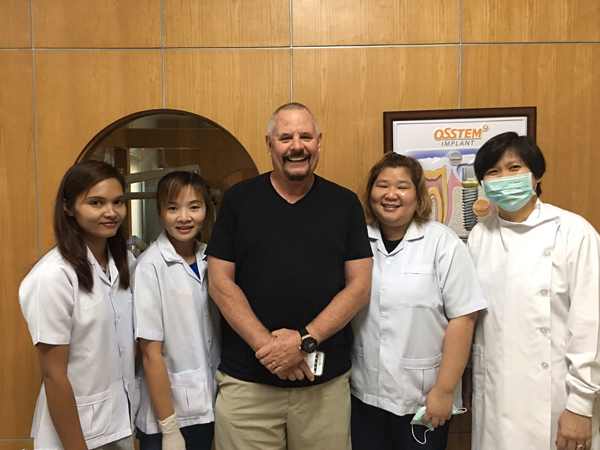 I would like to thank you for the extraordinary work you did on my teeth. Your work is highly professional and not only meets us standards but surpasses them. You also did an exceptional job on my wife's teeth.
I had 5 crowns made for my teeth an a set of veneers. The difference in my smile is beautiful.
Please accept my profound gratitude for you high standard and meticulous care – We highly recommended you.
Best Regards
David, USA
23 Dec 2016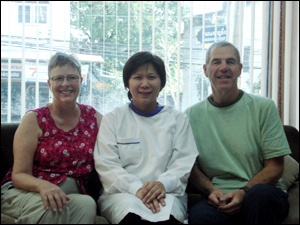 Today, my birthday of 63 years, I was given an exceptional gift. A gift that was the result of four days of care by Dr.Laddawan and her highly trained staff of the CM Dental Clinic. Over the year I have many unhappy memories of "The visits to the dentists" which left me always in fear of the "next visit". Always leaving these visits as long as possible resulted in many times the needed work was extensive. Knowing the time was coming for another "visit" I was told by a friend about the great care he received at CM Dental Clinic and recommended I drop in for a Check up and consultation.
Finally, with my teeth bothering me constantly, I took his advice. From the moment I arrived at the Clinic I was made to feel at ease by the friendly, on task, and professional staff. The extensive work that I needed: three new fillings and five old fillings that needed to be redone, was carried out by Dr.Laddawan. Having a heart condition and my fear of past experiences, Dr.Laddawan was keenly aware that my stress level had to be taken into major consideration while carrying out the long time needed work.
My heart was constantly monitored throughout the four days of procedures and at No time was I ever at risk!
Dr.Laddawan and her competent staff carried out the needed procedures while I was at ease and confident of the outcome and results.
Today, April 5 All is finished and I want to highly recommened Dr.Laddawan, her staff and the CM Dental Clinic to all! I will always return
Ron Watt - British Columbla Canada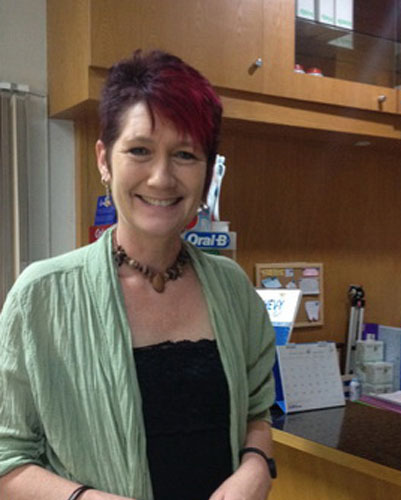 I came to Chiang mai for a holiday a couple of filling . Referred to CM Dental by friend. I thought it would all be over an hour. Not so ! I had lot of work to be done and several visits , 2 crowns , which I didn't expect and more filling that I hadn't realized I needed. Wow, what a amazing team here at Chiangmai (Cm) Dental.
The care and professionalism shown to me over 4 visits to complete my dental is outstanding . I felt safe +comfortable .Every part of my dental work was performed at the highest level of skill , but with more smiles + cheerfulness than I have seen anywhere in Australia.
I will be back for any other work I need & recommend Cm Dental to anyone . Taking the fear out of " The visit to the dentist " . Thank you so much Dr.Laddawan and your wonderful staff. Regards , Michelle Beck Palmwoods.
Queensland Australia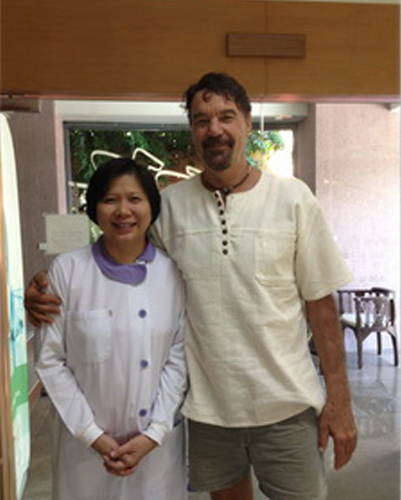 Hello …my name is John Burns. I am from Australia. I come to Thailand mainly to get my teeth fixed as in Australia Dental care is much more expensive.
I had no been to a dentist in 6years and I need a fair bit of work. The clinic here has just finished me up where my teeth are now perfect. The service and workman ship, have been excellent. I am am very satisfied with everything.
John Burns - Australia
Came to Chiang Mai specially for my dental work.Very caring staff, very happy with result and cost would recommend Chiang Mai dental clinic to anyone requiring any sort of dental work.
Lesley McIntosh Qld, Australia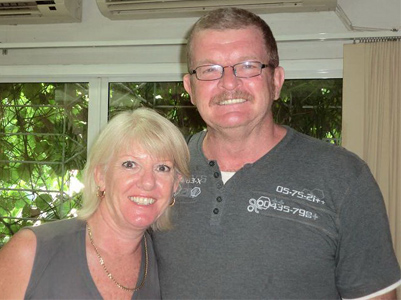 Hi! I am Pat a 54 years old from Maroochydore Queensland I found CM Dental on the net and after reveiws and research to Chiang Mai for 15 crowns 20 fillings. They looked after my wife and I expertly and we were very impressed with their courtesy & professionalism Dr.Laddawan was great and I would highly recommend her cheers Pat.
Colin had plate with 3 teeth fitted within 3 days with final fitting and cheer up on Saturday morning .Lesley had filling and cleaning and will be back for more treatment .I would be very confident to rebook for more treatment from New Zealand and again including another few days for relaxing in Chiang mai.
We would have no hesitation in recommending Cm dental to any of our friends in New Zealand with a great deal of confidence.
Pat White, Ros White
30/4/2013
We booked our original appointment from New Zealand .For our holiday in Chiang mai. We found the service pick up from hotel and drop off a wonderful service to clinic.On Arrival at clinic we were greeted by happy polite staff made us both relaxed and welcomed.
Dental surgeon "Laddawan" was so gentle that you didn't feel any pressure or pain –injections were painless her work and explanation of treatment was very clear and follow up treatment were very professional.
Regards, Colin Pitkethley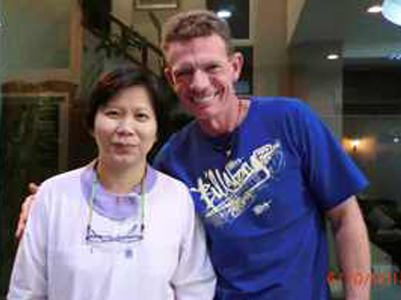 Dr Laddawan Kitirungsi and her amazingly friendly staff displayed the utmost proffesionality , compassion and flexibility to produce exceptional results in a very tight timeframe. Right from initial communication before leaving Australia, the Team at CM Dentistry provided a transparent professional high quality dental experience.
John Miller
Darwin, Australia
All the way from Sydney to Dental Chiang mai has been perfect experience friendly staff and very profeshanal would recommend to all I can.
"35 years of dental neglect fixed in 10 days" The Price was 1/3 Quoted in Australia. So with a holiday fares we still got away with a lot less than ½ what it would have cost in Auss. Chiang Mai is a lot more laidback than Phuket or Bangkok.
Thank you very much.
Stan,
Sydney Australia
My husband and I were very impressed with Dr Laddawan Kittirungsi after the first consultation. Her assessment was accurate, her explanation was clear and her plan was sound. We knew we were in good hands.
Dr Laddawan is proficient and excellent in her attitude. She displayed great professionalism throughout treatment. She is cheerful and will put any patient at ease.
The clinic is clean, bright and cheerful. Her staff- the administrators, her assistants and even the driver, exhibits great efficiency. Every staff member is diligent, helpful and courteous. The clinic also provides transport to ensure that patients turn up punctually at the appointment time.
Thank you for the great experience!
Mr & Mrs Foo K K Singapore
30/05/2014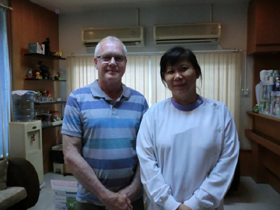 CM Dental is a clean professionally efficient clinic. The staffs are courteous and polite. I had surgical Bio-Oss placement by a specialist from Bangkok. The CM Dental technician complete all the remainder of my dental work: Implant crowns, porcelain crown, root canal with associated crowns and filling replacement.
CM Dentals post procedure advice was excellent with supplied medication. Nil infections or problemshotel pick up / return service excellent. In short, you get what you pay for and I have no problem recommending CM Dental in Chiangmai.
Gary Axsentiefe: Queensland Australia
Occupation : Advanced care Paramedic
23/07/2014
Thank you CM Dental Clinic I had my four wisdom teeth extracted here... I thought that your service was very professional + personal and I felt safe in the knowledge that you did a splendid dental job. I loved that you picked me up + dropped me off, which saved me from worrying move than I had to. Your facilities + technology was of a high standard + your staff were excellent + friendly Thank you for pulling my teeth.
Nina - New Zealand
To whom at my Concern: Come to the Dentist with teeth needing make work. I Just on week once 4 visits 10 teeth were rebuilt or repaired with very little discomfort. The results extent and I am more than satisfied.
William Spinks
Feb.22, 2018