How to find the best whitening method for you
Who doesn't want a whiter smile? After all, it's a reflection of overall good oral health. But what's the best way to whiten your teeth?
Over-the-counter kits are popular but can come with the risk of sensitivity and gum irritation. When you're looking for the best whitening treatment, you should always consult a dental professional to ensure you get great results, and a process that's safe and gentle on your teeth.
From convenient, prescribed home treatments to in-office professional whitening, let's look at safe, effective options that you can talk through with your dentist or hygienist.
If you want… fast, dramatic results
To get the brightest smile possible, check in with your dental professional for an in-office treatment.
Whitening with whitening lamps gives the most intense results, accelerating ingredients to get to work and reverse staining. As your dental professional carries this out for you, you can be sure you're getting a safe whitening treatment.
This kind of whitening is especially effective if you have deep discoloration, maybe from years of smoking, drinking wine and coffee, or taking certain types of medication.
With Philips Zoom WhiteSpeed, your smile can whiten up to 8 shades in 45 minutes. Not only do you get a whiter smile, your dental professional will follow up whitening with our post-treatment gel that's clinically proven to reduce sensitivity and help protect enamel.
With outstanding whitening and little to no sensitivity, you get the best of both worlds. Click here to find your nearest dental professional who offers WhiteSpeed.
If you want… to take your first steps into whitening
Maybe you're new to whitening, or want to try it for a special occasion?
Getting your dentist or hygienist to carry out your whitening treatment ensures you're in safe hands: tooth whitening is safest and most effective when carried out by a dental professional, lowering the risk of sensitivity and gum irritation.
To test the tooth whitening waters, find out where your closest Philips Zoom dental professional is and ask about Philips Zoom QuickPro. Tagged conveniently onto the end of your check-up, QuickPro whitening varnish is safely applied to your teeth in 10 minutes, and dries in seconds. It's combined with a protective sealer layer to lessen sensitivity. All that's left is to brush off the dried varnish after 30 minutes to reveal a smile up to 4 shades whiter.
If you want… to whiten teeth at home
You want to nudge that smile up a couple of shades? With one of our home kits, you can brighten your smile gradually and conveniently, with a treatment that fits into your schedule.
To get the best in home teeth whitening, it makes sense to get advice from a dental professional to get the right treatment to meet your needs. Personalized treatments, prescribed by your dentist, give you peace of mind as you whiten at home.
Philips Zoom DayWhite and Philips Zoom NiteWhite are recommended by your dental professional so you won't be caught out by picking too strong a formula.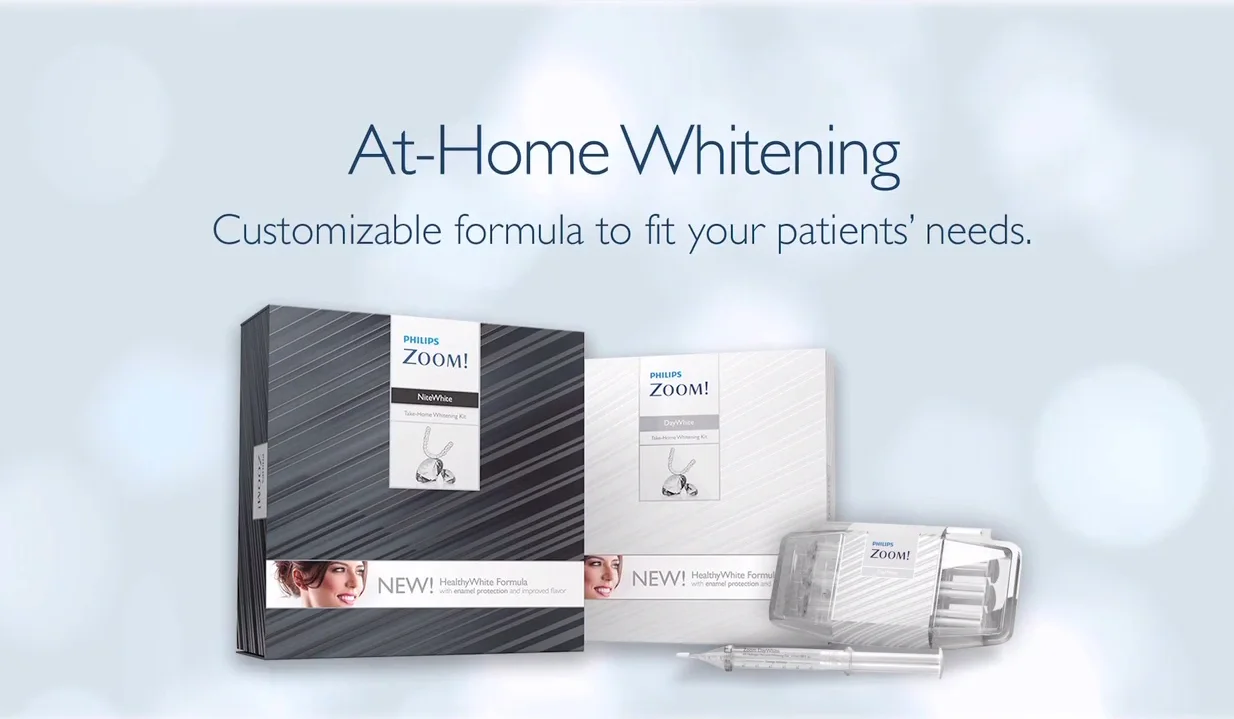 You get customized whitening trays that fit every contour of your teeth for even results and, depending on the strength recommended to you, you'll have whiter teeth in one to two weeks.
As part of your kit, you'll also get our post-treatment gel, that helps to protect enamel and reduce sensitivity.
Information from : www.usa.philips.com