The 4th Thai-German International Congress.
Touching hearts and relieving pain
By Margaret Bhadungzong. December 2014
In any big city in the world, we are strangers passing by one another. But far away in rugged remote settings, a dental volunteer is recognized as an outstanding human touching the desperate with compassion and relieving physical pain to those struggling. Throughout the past nine years, dental service volunteers from the Thai Dental Association and the Thai Medical Mobile Dental Foundation TMMDF have gone on journeys to distant areas that have changed the course of many lives in Thailand. All volunteers are established in this service-providing purpose providing quality healthcare services to disadvantaged communities.
On this day of community service, Zonta Chiang Mai Club donated funds along with a donation from the New Life Foundation to TMMDFfor the Samoeng Program. The Chiang Mai Red Cross Health Station 3 distributed 50 sets of blankets and warm shirts to seniors over age 60 years.
The TMMDF brought a huge amount of dental equipment, hand instruments, medicine and dental prosthetics to Samoeng districtin the rugged hilly terrain of Chiang Mai province. Supplies and technical equipment along with 40 mobile dental chairs staffed by over 120 dental and medical volunteers from private clinics in Bangkok, Bangkok's Police Hospital and Lertsin Hospital treated a registered 1,000 people at a figure over Baht One Million of free dentistry. The patients in the Samoeng area required a broad range of basic oral health care services and treatments
Mobile dental health initiatives care for underserved and unreached populations isolated by natural remote or cultural circumstances that keeps people apart from communications or progress. Organizing the several teams and all supplies for dental care is a huge undertaking. Initially, dentists working near underserved areas establish contacts to set up a project. Next, on a long weekend, volunteers travel to the areas to understand the types of dental needs and support that will be required. The following long weekend is assigned to screen and measure patients for prosthetic pieces. Another long weekend is necessary to check the oral fitting and determine adjustments that may be required. The fourth visit such as the December 2014 visit to Samoeng was when the prosthetic pieces were fixed in place.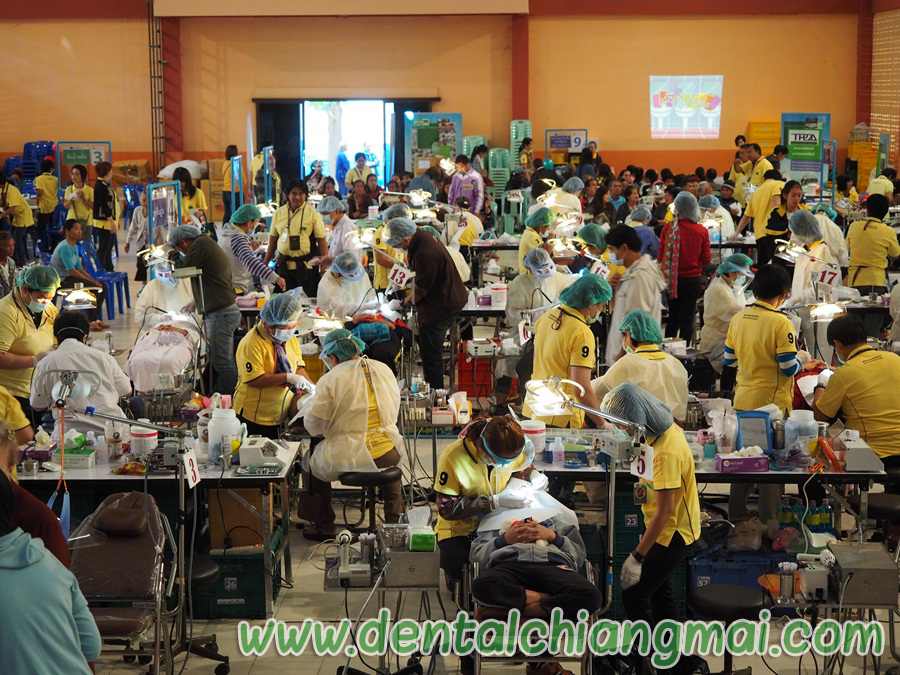 The interior of the high school's large sports hall was divided into working spaces for patient screening when taking detailed clinical history; conducting clinical examination and diagnosis of dental diseases. Rounding out tasks in the work space areas was the general dental work such as scaling, simple fillings and extractions. A pharmaceutical section provided necessary medicines for patients' recovery after treatment. Experts were on hand to advise patients about a preventive dental care program through discussion and animated cartoon films.
The Samoeng local administration thanked each volunteer for their years of dedication, hard work, humanity, generosity, intelligence and cooperative spirit. The compassion of TMMDF have removed two of the primary obstacles to receiving dental care that are, the cost and accessible location.